WOOSH. SO TIRED! Today cross country thingy... seemed to be not as tiring as last year! Which is a much surprise for me! XD Last year half dead this year not realleyh! XD When I start running today rite, I notice that I can run faster than usual!! ZROOOMM!! LOLOL~ I feel my legs moving so swiftly~
*proud*
♥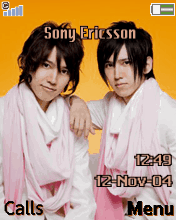 Nyann! I just made another On/Off and Teru phone theme! XD ~ Laaavuu daavu!~ ♥
Oh yeahh! Just now read this Ruki's interview on the new single Distress and Coma XD Sannnkyuuu Lang for giving me teh linky~ NYOOHOOO~~
teh link ----
http://kiniro-ageha.livejournal.com/9077.html
Ruki talking about his V day thingy during his 1st grade! Nyaaahaaann!~! He sounded so cute neh ;D
KOONIE!! Wakaka I don't care I already stole the Jun's pic XD!! Nyahhaaa!~
*jump jump*
and the rest of the GazettE hakama pics!~ But where's URU'S? AWWWWWWWW~~...
Aiseh.. you stalk my
Daizy Stripper
boys more before me eh?
*jealous*
XDXD I aso wan watch! Nyuuuhuuu!~~~ :D
Daizy Stripper - Dandelion PV
- starting was abit ZzZzZZzz for me XD but
Yugiri
is cute! :3 ♥
- i like the way the camera moves around! XD
- i SAW sexy thighs!! XDDDDDDDD
*rolls around*
- his voice sounds like Heisei Ishin's! :O XDDDD
- headbang headbang! ♥
Daizy Strippper - TRUTH pv
- WOOSHH! I LOVE THIS PV XD and the song!!~~ ♥♥♥
- Yugiri ♥_♥
- can't really see Kazami ;_;
- Rei looks sooo coool!~ he reminds me of Saga :3 Kazami also cuteeeee!~~ *Q*
DaizyStripper Like an Edison 2009 Happy New Year Special Comment
- I like their new outfits!! ♥_♥
- bye bye! SOSOSO cute!!~~ ♥
Daizy Stripper Comment - Gl!tter 003
eeesshh! Can't embed ;_____; But took some screencaps nyahaha!! Buay tahan! They're total HOTNESS!!~~
*DIESSS*
♥
Kazami, Mayu, Yugiri, Nao and Rei
OMG I LOVE their new lookssss!!
*stareS*
ARGHH!! Kazami KAKKOII!! ♥ His hairrr! :3
Yugiri, so cute and short :3
REI'S BELLY!! *Q*
- I want the scans for this magggggg!! X3
Laugh laugh laugh!! 8D Yugiri so cuteeee! ♥ SHIT Kazami distracting mee!! ♥_______♥
So happy arh~? XD AWWW~~ Cuties~ I keep focusing on Yugiri and Kazami~! Especially Kazami~ :D I didn't know he's THAT tall! O_O
I love him!
♥
CUTEEE CUTEE!! ♥ :D Are they talking about pregnant lady? =.=V Hate being a jap nooooooooooooobieee ;_; XDDD
Kazami Kazami Kazami Kazami Kazami!~ Kimi ga hoshii~~
=X!!! Sorreh my tongue slipped XD!! But he's just too hott neehh! :3
my type my type
♥ Mayu can't help it, he gotta LOL everything ~ XD
ZOMG His eyes~!
*shot down by Kazami's overwhelming pair of eyes*
OH NOOO~!!
I found another loverrr!! :D:D ♥
I love you Kazami~!!
XDDD
DaizyStripper-New Year Comment(13.7 2008)
- Kazami, Mayu, Yugiri, Nao and Rei
- I noticed Nao likes to lift up his head XDDD
- Nao and Mayu are dorks ♥
- Kazami ♥_♥ Yugiri x3
On/Off - Rinne Rondo PV
- gosh.. i'm watching this over and over again ♥
- I LOVE THOSE
:3
LIPS! XDXD
- Kazuya has cute ears x3!
- I enjoy watching them danceee!
*melts*
- I noticed Kazuya is always on the left and Naoya on the right! :D
- Agh! Hard to choosee! But I prefer Kazuya! :D Awwh ♥_♥
- ilovethisPVilovethisPVilovethisPVilovethisPVilovethisPV
ilovethisPVilovethisPVilovethisPVilovethisPVilovethisPV
ilovethisPVilovethisPVilovethisPVilovethisPVilovethisPV
♥♥♥♥♥