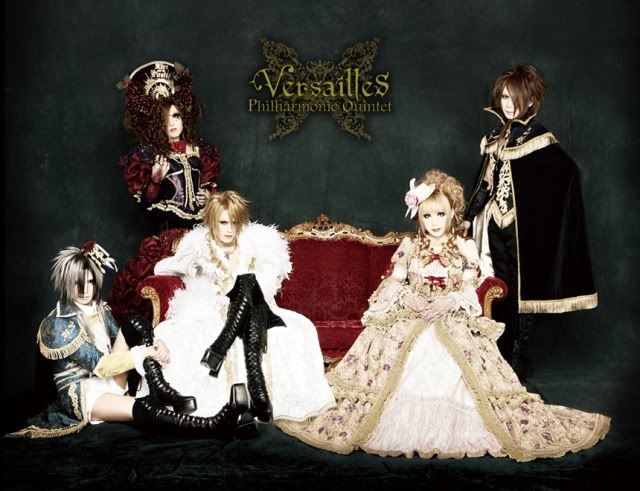 Prince and Princess
Versailles'
FIRST
Single
Kyou wa kita n da!!!!
YATTAAAA!!!

(* ´∀` *)
Omedetou
Versailles-tachi! ;D ♥ ♥ ♥
Prince
is SUPERB! ♥ I listened that song ages ago, it was kind of "together" with the tracks from Art of Propaganda. I'm not sure. Just the starting a little different. Before Kamijo even start to sing that song, I LOVED IT immediately. The music fascinated me xD. As for
Princess
, it's really melodious. ♥ Feel so peaceful
♥(´∀`)♥
I not very stick to this song yet, but I will, definitely,
ONE DAY
. The last track, although it is instrumental, entitled Silent Knight, at first I thought it's a slow and calm song, it turned out to be.. well.. BETTER than I thought ♥! Feels like a Noble Knight or Prince saving his Princess hahahah!
REALLY
! :D First first the song is like in action, then become slower and more melodic~ It's like telling a tragic story~ WOOOT! xD ♥ Awww, I could hear
Teru
guitaring~
♥
xD
There's limited edition singles featuring each of them :O. I know I've posted these pictures before but, but but... it's their big day! :D ♥ I saw it selling @ I think CD Japan~ It offers this B2-size poster if you buy the regular edition plus any one of the limited edition! AGHH!
I WANNNNNNNNNNNNN ♥
):
This is the poster.
There are other posters too. OMFG ♥ SO HOT! Got these sample pics at their official site.
♥ They look gorgeous
(♥_♥)
* Simply awesome for their very first single after one album and one EP. ;D!!!~
So,
is there PV for Prince and Princess
? Please say yes T_T I WANT I WANT IT!!!!! D: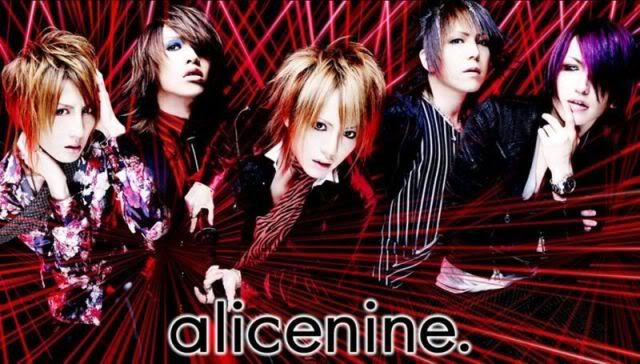 Hey hey peeps it's not just Versailles that released their new single today! :D
Alice Nine
TOO!
Their
15th
single
(am I right on this -_-)
Cross Game
todaytodaytodaytodaytoday~
Also,
omedetou
Arisukyuu! xD ♥
MUAH~
Cross Game ♥
! I'm in love with it long time ago! Straight away watch the PV then wahahahahha! I ♥ the chorus part ;D and how
Shou
raise his voice in it
♥3♥
~
Atmosphere
was not bad ;D Can feel the atmospheric pressure ~.~ swt... I'm crapping hahaha~ AAahh.. nothing much to comment~ XD I ♥ Shou's actions in Cross Game PV! SO COOOOOOOL~~~~
Hit that! ~ SMACK THAT~
HAHAH! -_-V And herm, Tora's eyes, when I look at 1:53, OMG! Fuyoooooooh~
CUN RIGHT? xD
THAT'S HOT
~~ Nyahahahahaha!~
Cross Game PV
FYI, I can't stay focus on other members in this PV, cause of Shou. Ugh~! xDD
❤
*
Feel like stalking them back ;D, it's been a while! :3 GazettE taken so much of my time, and I never regretted
AT ALL
. HOHOHO!~
*swings my hair again*
~
------------------------------------------------------------------------------------
SO HIGH!~ SO CRAZY~! SO TURNED ON~! Aghh..
Orgasm~ ♥
xD...
Read 2-3 Yaoi fan fic today~ Nyaaaaa~ baby you turned me on xD I thank you for that hahahahah! Nuuu i havent read the latest one u gave me yet... =.=V
The moaning... rubbing... caressing.... kissing... vibrating... hot breath... biting... hugging... gripping... thrusting... blind fold... shower... forcing... licking... sucking... wetness... 'entrance'...
AGH I dunno what else! ... HOT!!!!!!!!!! xDDD
HOHOHOHOHOH!
*yeah i'm abit aherm today hahahahah*
Conclusion :
I'm gonna read more and gain MORE 'knowledge' ;D
So that I could write something like this too, HAHAHAHAHAH!!!!!!! xD
YESH! Today Junjou Romantica Season 2 LATEST EPISODE の couple is junjou romantika!!!!! My FAVE COUPLE! WOOO! YEAAAY!!~ New epi always don't have subtitle so I watched it RAW, and I only understand not much ~.~ don't care watch only xD. Last week's couple was Junjou Terrorist xD. I never posted about any epi of JR before, this time I decided to... cause.. hee hee...
♥

SO SWEEEEEEET
~~~
See how cute misaki is...

Usagi took his paper and Misaki snatched it back, "Don't simply take my things!"
AWWWWWWWWWWWWWWw........ so cute~~~ ♥ ♥ ♥
After that, duno what Usagi said to him, he lifted up Misaki's chin and CHUUUUUU~~~~~~~~~~
*i repeated a few times buahahahahaha*
After that after that, Misaki quickly withdraw and start to avoid the topic :D~...

Usagi doesn't care~ He grabbed him from behind and harrass him! WOOOOOOOOOOOOOOO!!!! *(♥ v♥)* !!!!!!!!!~~~~~
*repeat repeat repeat*
~ THAT TURNED ME ON! HAHAHAHAH!~
Usagi caress from his lower part to his chest!
(but never show so clearly T_T)
I heard his moaning :D
HEE HEEE HEEEE...
WOOOOOOOOOOOOOOOOOOOOOOOOOOOOOOOOOOOOOO!!! I'M HIGH~ HAHAHHAAA~~!!
♥ ♥ ♥
Oh nuuuuuu~! Misaki went dating with Usagi @ the Aquarium, and met Usagi's brother again! HAHA~

Misaki wanted to escape from him, but Usagi's bro place his big hand on his shoulder so that he couldn't escape.
LOOK AT HIS CUTE FACE ♥
xD Later on his brother mentioned about his family, which is also Usagi's bla bla bla, something like they couldn't get well bla bla I not sure~ Then he confessed to Misaki once more, and say he can give Misaki happiness more than Usagi do. Etc etc, alot of craps. But ;D Misaki rejected him, Awwwww.... the sweeet guy~ Later in the ferris wheel or smth, Misaki FINALLY said ILY to Usagi! :D "Usagi-san no koto suki da". WOOOOOOOO! YESH YESH!!
Near ending, after the "no worries" and confessions. :D They did the.. aherm aherm in the toilet... but of course never show all laa... so dissappointed T_T... aiyo what to do this Yaoi Anime 'HIGH' rating low low mar~ XD... But but.. so sweeet Awwwwww....
Misaki's glad that Usagi is back to himself ;D
THAT'S NOT ALL. HAHAHHAA.

Babyy thank you for the pressies! MUAHHHX~

♥