WARNING NO.1314
KAI
gazette
PICTURE SPAM!!!!
Some images credits to gazette_daily
END
Hahahahahah! Sorry I'm a little high today. WEEEEEE~ Y'know, I've been stamped as
Kai
in
gaze_rating
! XD Posted @ 19th of Nov, got the results this morning. Herm, the rating is like, you fill in the form; name, age, dislikes, likes, what gazette is to you, which member you like, reason, etc etc. Then, other gaze fans will vote which kind of member are you according to your personality, of course you must know gazette boys really well, if not cincai vote aah?! XDD After 6 votes only can get the results. I think I know why I've been voted as Kai :D, Kai LOVES & ALWAYS smiling + laughing, and he likes monochrome or dark coloured outfits. SO DO I! :D It's not that I do that on purpose! It's true! XDDD ~ Here's the form that I filled in :

About You
Name: christine
Age: sixteen+
Favorite color: black, red, purple
Favorite style: punk~! but I don't wear those x3. I usually wear Simple && dark ones. ;) And oh, no skirts xD, replaced with baggy long pants weeee.~
Likes: *think hard* jrock visual kei! anime, yaoi, listening to music (loud & fast ones), teasing people, designing, laughing? xD
Dislikes: fake person, haters, people who think they're so big.
Hobbies: blogging, onlining, singing, writing(sometimes), drawing, travel, sleeping, daydreaming xD
Gazette is: THE BEST. ❤

About the Band
Who's your favorite member? Uruha ❤ x3! Ruki & Kai too, but, I really like them all! :D
Reason?: How to say? He's(uruha) just my type! *grins* ; Ruki's cute and i like his naughtiness xD ; Kai's smile makes me smile ~ Reita's cool and Aoi makes me laugh alot :D
Favorite song: Distorted Daytime, Cassis, Leech, Guren, Kugutsue
Favorite PV: Guren && Filth in the beauty mostly
If Gazette weren't musicians, they'd be...?: normal + cute + fun guys with many people who adores them xD, or best buddies perhaps? WOO that'd be COOL x3
What do you feel when listening to Gazette?: Feel really high ;D. I feel so proud and lovin' them so much when i did xD. sometimes i hoped hardly that im in japan so that i could always go to their lives WEEEE! :D

Pikkus
(this is where I posted my *old* photo. I won't post it here, not very amusing xD)
Wanna see the whole thing? Click
HERE
~ heheheheh!


If you can't view means you have to join first x_x"



The Stamp I picked & posted in my LJ profile :D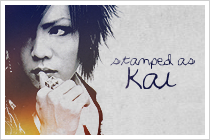 Got many many other stamps, aww so hard to choose xD, don't mind if I post some here x_X, thank you
gaze_rating
XDDD: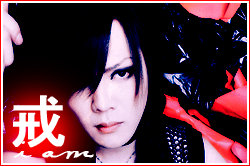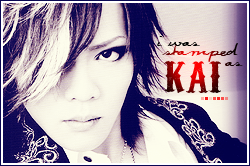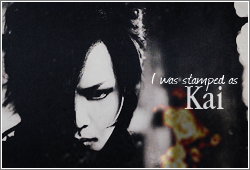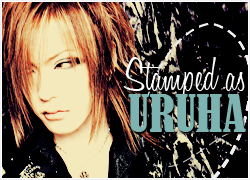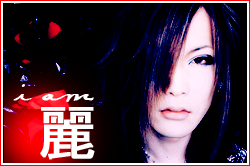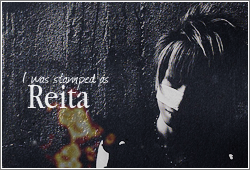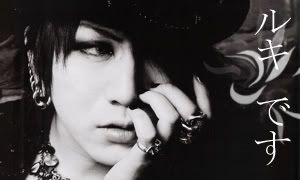 ★ ★ ★ ★ ★
I've also posted in
Alice Nine rating
, haven't got the results yet, posted on the same day. Currently 2 votes for Hiroto, and 2 for Shou. Lawl. The form is a little different, it has more. WOOOOOOOOOOOOOOOOO~!
Hee, was so amused this morning xD. I came online in MSN straight away I saw "You have 46 mail in your inbox", WAH~ I thought it was friendster stuff spamming me xD, it was bunch of LiveJournal a.k.a LJ comments. Last nite I posted some random pictures to gazette_media , fuiyooo I didn't think I'd receive so many comments on that! :D Currently got around 40+ comments. Click
HERE
to view that post, WAIT, you'll need to join that community only can view, of course, signing up for a LJ account. Whatever, viewing there is better, but I'm posting what I've posted here(only the pictures)! HAHAHAH~! PS: Some I posted before.
HOHOHOHO~. Funny a not? Some is so lame, I know. HEEE! I was worried if this kind of post is not allowed, but fortunately the moderator accepted it! WEEEEEEEEEEEE arigato~ MUAHHX
......................................................................................................

Vids I watch today; Behind The Scenes, GazettE 5th Anniversary, Black Moral , 2007.05.30!!! :D Ah fish I'm so slow yayayayaya! :D Got 2 parts.
[x]
Kai is
SOO KYUTE
as always!!! Watch him drumming~
SMILING
~ :D:D:D:D:D
*melts*
[x]
Agh! Ruki's
size
makes me squeal!! XDDDD
CUTENESS GRACIOUS
!! =D!
[x]
Wow.. Aoi looked
SOO COOL
playing the guitar~ Spotted his funny face xD
[x]
OMG~ Reita's
hair
! AGH!
*jealous*
Hah, one part he's wearing a white mask instead of the noseband?! xD AND he's wearing
sleeveless
! WOOOOOOOOOOOOOO SEXY~ :D
[x]
The best of all, the only one I can't stop looking at, xDD Uruha!!! WOOOTz Wow, looked so pretty as always xD, aah love that hairstyle
❤❤❤❤❤
, he's wearing white jackie and jeans! SEXY~! In part 2 before this celebration starts he changed. XDDD~BEST PART : playing the guitar.
❤3❤
[x]
ALL of them looked so COOL when they're rehearsing, practising their own parts. GAH I'm insane! XD
[x]
LOVE the way they get together x33.
[x]
MANY fans waiting to celebrate with them :D:D:D
[x]
The stage is HUGE! WOOO!
[x]
I think I saw Ruki or Uruha riding a
scooter
around! HAHA KYUUTEEENYAAA! XDDDD Agh it was it black and white, plus Ruki & Uru wearing white, long sleeves I'm confused XDDD~
[x]
The guitar is DAMN NICE!! xD
[x]
I WANNA SHAKE HANDS WITH THEM TOO!!! D'=
WOOO Found and downloaded the vid and 1000+ screencaps!!!!!! Agh I lost the link xD
*SCREAMSSS*
PS : I starting to like Kai even more xD.