YEEEEEEEEEEEEEEEEAAAAAAAAAAARGHH!!! I made more GAZE wallpapers! -_-V
FYI
: An Otaku is always free ;D
Haiyo. Today was not much. Herm. Just took a long time posting my wallies in LJ and other LJ communities xD~ Yaya I still sux at editing, whatever! As long as I train I'll level up xD!
*i'm really happy with comments~*
Anyway, I find that I'm getting more obssessed with one of Versailles' guitarist,
Teru
~ xD. Oh yesh I spammed his pics in the
previous post
:D~ Mann he's really cute xD, Can be a kawaii team with Nao and Kai WOOOO~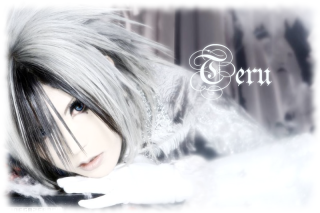 Yeah yeah! Teru~ XD
Okay, today's not much. Knowing that now is late, and I might "dc" anytime cause nowadays bro always off the com at night. TwT
Today's the first time of the month I went out, yah.~ For an Otaku like me xD. Dad was quite glad I went out. He dislike seeing me staying at home, onlining onlining. Aiyoh, now ppl don't play game edi lerh xD. Today he saw me editing some gazette pics, he nagged me again. ARGH how I hate that D: Whatever.
Just came back from Kelana Jaya Giant, always also go there ;X~ Kinda bored. Actually went to the laksa shop next to Burger King to eat. Already sit there (with mom) for like 20 minutes, waiting for dad, he couldn't see where we are no matter how I waved LOL. When he came he say he wanna eat @ Chicken Rice Shop. -_- We already sit in that shop for so long now wan cabut? Malunya! I had to pretend looking somewhere else while "sneaking" out from that restaurant.
Bla bla bla, ate normal rice with char siu and steamed chicken, I ignore the ikan asam and kelabu(duno spell), which is made out of mango etc. The soup and meat is okay, the rice SUCKS!! It's soo sticky! APA NI?! Made from flour? -_-V
While eating, mom mentioned about, next time after go travel to Italy, then to Japan. OMFG! JAPAN!!!!!!!!!!! AGGHH!!! I squeaked. Mom realize about my affections towards Japan && Japanese etc, she say "must see your results first".
TwT BOO HOO HOO!! I wanna go!! T_T . But dunno why I'm feeling kinda scared. Zzzzz....
I scared I go there become gila liao. Not only ANIME ANIME stuff around, GAZETTE! GAZETTE GAZETTE stuff stuff will be there also! AAAAAAAAAAAAA!!! T-T Once I go there I'll never come back xD. One day I must live there BUAHAHAHAHAH! WHO WANNA JOIN ME? :) I know the expenses are high I DON'T GIVE A DAMN. :D
Bla bla! Went to Giant. Random. I saw this REALLY CUTEE picture of cat and hamster, cuz went to the pets section. OMFG SO CUTEEE~!! NYAAAAAAAAAAA~!!
I realize I keep pee-ing today. Why leh? My bladder's excited ar? Cuz long time no go out hor. -_- Mom wanna buy a new curtain for the kitchen, I picked the one with faint yellow color (my taste pro), cuz my kitchen got yellow, tropicana green and dark blue. HAHA.
When shopping in giant, I keep dreaming LOL. Of what leh? You guess? XD Awwww how nice if it were to become true :D~~~~~~~~~~~~~~~~~~~~~~~~~~~~~~~~~~~~`
Wah so fast got x-mas song liao. And x-mas tree. Actually I taken alot of photos today just that my USB wire downstairs, too lazy to take. Aih. And I'm in a hurry :D
Aiyo, damn suck la today's post ;( . So empty. HAHA. Well I think that's it bah. Hmm, I think I won't be dc-ing anytime now. No idea. Whatever. HAHA~
Aww, I miss KoonIe~ Hope you're doing well in your concert! :PPPPPPPPPPPPPPP~ I'll feed you more when you're having your holidays! XD I GOT A SURPRISE FOR YOU!! :D
TADAAAAAAAAAAA~!!
It's Aoi! :D (sorry no kai TwT, not enough time... xD
i'll make for you tmr or other day~...
hope u like it lolx) DID I improve? HOHOHO~
Want a bigger size, click on it~
extra bigger?
Click either one of the "x" below hahahah~
xxxxxxxxxx
x
xxxxxxxx
---------------------------------------------------