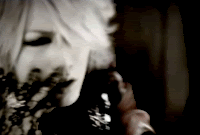 That is one way of how Ruki arouses me. KEKEKE.
*nudging everyone i see*
I LOVE DOUJINSHI!!!!!!
XD
dunno what is doujinshi? eeee. read
here
. :3 ò_ó
gosh duno why today suddenly addicted to doujinshi XD
i went to this awesome
community
. all those scans and manga stuff thingy whatever i'm not so sure is there. I just downloaded Kyou Kara Maou's. I LOVE IT. NC-17 LOLOL! I haven't read yet but going to before I off.
Didn't do any stalking today. Never go out with Zhu2, and my parents today went to visit my old house and went shopping in KL in the end never wait for me so I stay at home with bro =.=V. Also I went Atria with bro and shop a bit. ROFL we bought bacons! YUM!! XD I LOVE BACON LOL
*random*
ROFL. Borrow those 2 FO banners from
elicit_graphics
. I serious LOVE these two banners! OMAIGAYYYYYYYYYYY. I seriously wanna update myself with more anime related news and.. doujinshi doujinshi!!!!!! :333333 ♥
CAN'T WAIT FOR HOLIDAYS.
WOOHOO! New ruki scans XDDD.
*edit and post*
I WANT URU'S NEW PERSONAL PHOTOSHOOT
TOO, please? ;_______; Aoi and Ruki already! I WANT URU. :3 Gosh i'm getting crazier nowadays ò_ó
♥________♥ Professor Ruki! :3
Ruki's soo hwannnndsoommee ♥ KIIEHEHE.
Ruki + Cigarette = FTW!!!!!! ♥♥♥
RUKI-SAMA!! Be a professor @ my future college!!! ROFL
*yeah keep dreaming*
He looks so cute in those specs ♥.♥
------------------------------
GOODNESSMOMAAA!
I'm flooding Uru in my profile already!
*except Ibuki*
people will think I'm insane, seriously LOL! XD Needa control ò_ó but i know it's already impossible ò_ó XD
This week results will be out! I'm sure!
*nervous*
Hopefully I'll get satisfying results. I really want
Distress And Coma
. ;_____; Those of you who are having exams this week or soon, KoonIe, Mika, ALL THE BEST! Kyaahaha! :DDDDDD
*gives fortune cookies*
Eto.. what else =u=.......
AHAHAHAHAHA. Now my ringtone is the chorus part for Doukoku!
*random*